15 Nov

Tandem Social accompanies Professor Muhammad Yunus, Nobel Peace Prize 2006, in the presentation of his new book in Spain

Muhammad Yunus will visit the cities of Barcelona, ​​Madrid and Valencia from 13th to17th November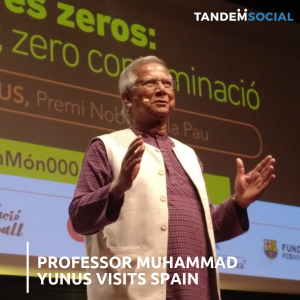 Professor Muhammad Yunus, Nobel Peace Prize laureate 2006, arrives this week in Spain to present his new book "A World of Three Zeros". He will be presenting the book in the three events in three major cities. Beginning on Tuesday in Barcelona, Professor Yunus will continue his tour arriving in Valencia on ​​Thursday to host the conference "three zeros, a path to a better habitat". On Friday 16th he will finish his visit in Madrid, leading an inspiring working day for green and social entrepreneurs.
During the events, Prof. Yunus will hold a lecture on his vision for a new economy of zero poverty, zero unemployment and zero pollution. In addition, he will explain how companies and social enterprises can contribute to achieving these three zeros.
Tandem Social is a founding member of Social Business City Barcelona (SBC), ​ strategic partner of Professor Muhammad Yunus in Spain. SBC's main goal is the development and strengthening of social enterprises and social entrepreneurship in the territory.
Click here to read more news about Prof. Yunus' visit:
Messi poses with Dr Yunus and his book – Dhaka Tribune
Prof. Muhammad Yunus.  A World of Three Zeros: The New Economics of Zero Poverty, Zero Unemployment, and Zero Net Carbon Emissions – Smartcityexpo.com
Nobel Peace Prize winner Muhammad Yunus visits training: 'Everyone in Bangladesh loves Barça' – FC Barcelona