17 Dec

The Confederation of Cooperatives of Catalonia recognizes the work of Tandem Social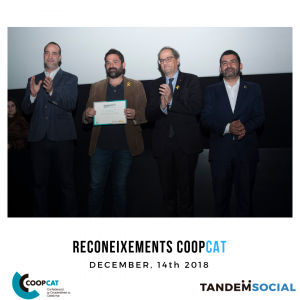 On December 14, the cooperative Tandem Social SCCL was given an award by the Confederation of Cooperatives of Catalonia in recognition of its transformative work in the promotion of cooperative principles in different strategic areas as well as for its work in social and cooperative entrepreneurship.
The other cooperatives awarded for their work were: DIOMCOOP, SCCL; Agrària de Torelló, SCCL; Femmefleur, SCCL; Cultural Rocaguinarda, SCCL; AIGUASOL – Sistemes Avançats d'Energia Solar Tèrmica, SCCL; Sostre Cívic, SCCL, La Fàbric@, SCCL, Escola Ginebró, SCCL, Laboqueria taller d'arquitectura, SCCL; Productes naturals El Rebost, SCCL; EDUVIC SCCL; SAT LTDA Apícola El Perelló 1363-CAT; Tandem Social, SCCL and Som Connexió, SCCL.
The event, chaired by the President of Catalonia, Quim Torra, was held at the Filmoteca de Catalunya with the attendance of 200 cooperative membres. Speeches were made by CoopCat's president Guillem Llorens and the current Minister of Labour, Social Affairs and Families of Catalonia. Llorens defended cooperative organisations as a centuries-old social practice that, far from being out of date, look to the future in seeking organizational formulas to transform our society into one that is more equitable and more socially and ecologically just.